Mark Twain on one of the porches he loved

Many American homes built in the late 1800s and later had porches intended to help their owners escape the heat, and—not so incidentally—make it easier to keep in touch with neighbors.
Last month the U.S. Surgeon General issued a health advisory declaring loneliness a "public health epidemic." There is obscure but useful reference point for this finding. Homes that once facilitated connection with neighbors now often do the reverse.
It was once harder to feel isolated when neighbors were just a few feet away.  Fences, open space, and virtual media have now mostly replaced the humble front porch as a place that could knit neighborhoods together. Its harder to withhold the routine courtesies of acknowledgment when the family next door is just a few feet away.  In an emergency, a neighbor can be a life safer.  But on any given day, even ordinary exchanges can help a person feel anchored to a place.
The Porch Tradition

Any number of older Americans can remember growing up in towns with housing stock that was built in the first half of the 20th Century and even earlier. Many lived in homes with a front porch. In our older cities we still see plenty of bungalows near the street and  close to nearby neighbors, each with a covered space in the form of a rectangle of maybe eight by fifteen feet: enough for a few chairs and a bench-swing. This extension to a house provided shade and a breeze. It also allowed people to dry off or stay out of the sun as they moved from the sidewalk to the home's front room.  This architectural feature  is especially an enduring remnant of America's love of the Victorian style.  A porch was another chance to break up a home's front walls with decorated brackets, pillars, railings and generous eaves.
From this perch it was also easier to see and be seen. The pre-suburban vernacular of brick or wood-frame homes were usually on small lots and near a neighbor's own elevated and welcoming porch.  Every block had its own variations: some expansive, some small. They were duplicated in homes of a similar vintage from Washington D.C. to Chicago, from Minneapolis to Memphis.   A balustrated extension of a home was its own version of a party line, where greetings and gossip were easily exchanged. My own humble porch in a newer townhouse honors the customary elevated space with a bead board ceiling, a few circular pillars, and enough room for a few chairs and a side table.  Few can pass by on the nearby sidewalk without getting or giving an acknowledgment.  Remember the gauntlet of  comments Atticus Finch drew as he made his way on foot from his Maycomb, Alabama home down the street to the courthouse?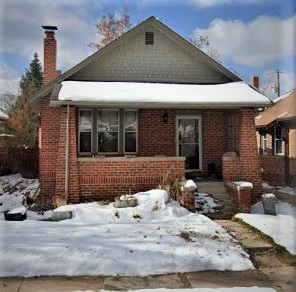 Her own little brick veranda was my grandmother's preferred spot for reining in exuberant grandkids. On warm summer nights that Clermont Street porch in Denver was a gathering place for family and– maybe if we were lucky–a root beer float. Kids also spilled onto the solid porch railing and small front yard that it overlooked. For a short time I lived in the same style of house before moving to a newer 50's box shorn of any inviting space in the front.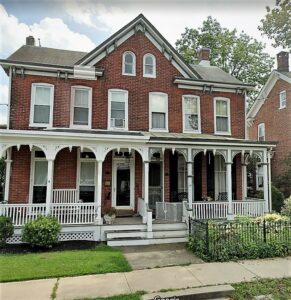 The older New Jersey town where I now live is made up of duplex or row houses built mostly in the late 1800s, nearly every one of which still has a covered space within a few feet of a neighbor's matching version. Few of the houses in the nearby commuter suburbs even bother, shifting all the action to the backyard. In those fat lots neighbors are separated by much more distance and—often—a six-foot-high stockade fence in the backyard: a virtual requirement if you buy a home in California.
Obviously, air conditioning and the vast expanses of newer suburbs made it easier for builders to turn their backs on the street. In addition, an ersatz colonial or modernist home aspired to look self-sufficient and private. Among other influences, Hollywood made each home seem like it should be its own island surrounded by leafy isolation. Many adopted the look of a little manor house, with a few decorative pillars around the front door, but nothing that would be mistaken for a full porch. Indeed, an authentic colonial home built in the 1700s  could be just as austere, all the better to separate the dirty streets of horses and wagon traffic from the front parlor.
Even so, early turn of the Century porches remain plentiful in virtually every corner of the country.  And many buyers of new properties want them back. Few other nations have defined their prototypical homes so clearly than with a covered space open to the street.  It has been a durable enactment of the unique American penchant for lingering and connecting.