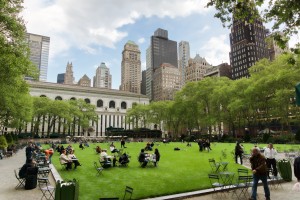 We should not be just of the physical world, but in it as well.
In the last several decades cultural observers like Todd Gitlin, Robert Putnam, and Richard Sennett have offered sobering assessments of the decline of the public realm in American life. Their critiques seem as valid today as they ever did. But numerous city, state and federal parks remain as important exemptions. To be sure physical separation from a dense community can be luxurious. Few of us want to live or work on the edge of a cacophonous circus. And yet there can be something magical about the shared world of a public park.
We may still bring to it some of the electronic paraphernalia of our connected lives. But a welcoming park has a way of bending us toward the comparative riches of the direct interaction with others. There are, of course, many reasons for escaping into the stunning spaces of America's greatest national monuments. But serendipitous contact with the physical world and the ad-hoc community that populate a public space is possible in even one city block.
Consider Bryant Park in the middle of Manhattan at 6th Avenue and 40th St. This jewel of an inviting open space shares its relatively small block with the main branch of the New York Public Library. But within its limited 2 or 3 acres it contains everything a shared environment should have. It's cooler and more shaded than midtown's congested sidewalks and streets. It's also full of French-style café chairs, which can be moved to the shade or near the center green, whatever a visitor wants. And most importantly, it offers a place to linger in conversation, or to be given time to allow the kind of mental reboot the city often discourages. Tor a tourist who loves cities, Bryant Park's benches and chairs along its leafy northern border offer views of some classic Art Deco buildings, including the Empire State. For the kids playing ping pong and chess along its edges it's probably just a place to "be."  What's impressive is how easily they all mix with workers who have escaped cramped cubicles in nearby buildings.  The park shelters all on more or less equal terms.
As in every city, a public common is a wonderful machine for making members of a community visible to each other. People are simply friendlier if encountered in public areas that are off limits to automobiles. In Bryant, events include  ice-skating in the winter, with free films, concerts and literary readings at regular intervals through the rest of the year. Its bigger twin to the south in Washington Square even includes locals who post signs next to inflatable sofas offering "free conversation." Open outdoor commons like these are essential antidotes to the American preference for spending lavishly  only on private spaces.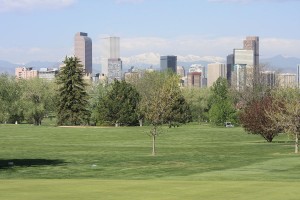 To be sure, Bryant Park is the lucky recipient of the vast wealth that surrounds it. But any traveler could tick off a list of special places that exist in part because of another American imperative recognized by Theodore Roosevelt that we need to be not just of the physical world, but in it as well. We grow closer to others when we are in landscapes that have the effect of deepening sympathy for our species and our capacities to connect. Among others, Roosevelt gave us the idea of preserving great national parks. But the scale does not need to be Yellowstone-grand. My favorites are dramatically dissimilar: a mere one acre tract of gardens and ponds in a hillside in Great Malvern England, a scattering of fire pits and picnic tables under magnificent old-growth trees in New Jersey's Bull's Island State Park, the thunderous meeting of ocean and rock at Asilomar State Beach in Pacific Grove California, or the grass carpet of Denver's City Park, which falls away to reveal the skyline against the incomparable backdrop of Mt. Evans.
Everyone can construct their own list, and perhaps notice that their favorite park is special because it has fostered relationships that remain central to our lives.