The pop recording "High the Moon" was the audio equivalent of an early photograph, or the first photocopy of an original. It changed everything. 
Granted, the heading for this piece is a bit of an exaggeration, but not by much.  In broad terms, a bit less than 100 years ago sound arguably became the premier source of leisure and pleasure. Think of radio, recordings, sound on film, concerts and dances, audio reports of events, and the growth of music education. These are just a few of the cultural landmarks represented by the capture of ephemeral sound on the medium of magnetic tape.
To be sure, Thomas Edison starting making stylus-in-groove recordings in the late 1870s.  But the German invention of audio tape during World War II perfected recording, creating  a level of accuracy in musical reproduction that surpassed the early Edison technology.  With tape, sound as we know it began to throw off its previous history as a subordinate sense.  More recent digital recording developed in the 1980s was certainly a technological breakthrough, but offered only slightly better sound. Magnetic tape provided the true gateway to the world of captured auditory content.
The pathway to this rebirth was certainly helped by the growth of what was then the supermax medium of radio in the 1930s. Radio networks and their stations would also benefit from new tape machines made by Ampex and others, adding stunning clarity and opening up a range of recording options.
In the recording studio the new system yielded greater clarity, and allowed for many synchronous tracks. A musician could now create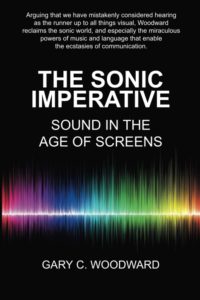 amazing audio effects that would have been difficult to duplicate in live performance.  As mentioned in my recently published The Sonic Imperative, one particular song especially turned jukeboxes across the nation into the musical equivalents of slot machines. The only difference was that most jukeboxes came up with the same winning result: Les Paul and Mary Ford's How High the Moon. Rarely has a single pop record meant so much. Prior to 1951 few had ever heard anything quite like its sound-on-sound and multi-track effects. It would signal the acceleration of music processing that continues down to the present.
A little more about that song. . .
Our dilemma is that we live in a loud world our ears were not designed for. Think of noise as aural trash: stuff that piles up around us that we hardly notice because it has no visual presence.  But its there: at music concerts where the sound is punishingly loud, or in the everyday equipment of modern life like leaf blowers, hair dryers and vacuums.  Previews shown in movie theaters, for example, regularly play at about 100 dB: only slightly less than standing at the end of an airport runway.  With this kind of noise, a person's ears will not survive intact to adulthood.  This is why one in three older adults have hearing loss. It turns out that our newest sense is also the most vulnerable.