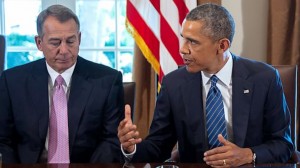 Think of "transcendence" as a verbal bridge: a single word or phrase that narrows the gap between two views to the point where "opposing sides" almost disappear. 
The title for this short piece may sound hopelessly arcane.  But these are the exact words that should be used to describe what is a simple yet significant process for turning conflict into agreement.  The power is real and the process is useful.
The word "rhetoric" has few friends.  But it's the right word to describe the daily chatter that emanates from us from morning until the end of the day.  We are not fact machines, but rhetorical machines.  We are not cameras, but practical artists:  rendering in the brush strokes of our own style what we have witnessed in life. The truth is that we routinely bend the world to our perceptions.  Apart from some forms of mathematical or programming language, our discourse is a complete mix of words and expressions that name as well as judge.  And because we usually do this to seek acceptance and agreement with others, we are—for good and ill—rhetorical.
Think of "transcendence" as a verbal bridge: a single word or phrase that narrows the gap between two views to the point where "opposing sides" almost disappear.  One of the virtues of thinking rhetorically is that it is easier to imagine escapes from hopeless impasses with others by thinking creatively about this kind of language of agreement.  If we sometimes use words as grenades that scare off potential supporters, transcendent ideas do the reverse.  So if someone baits another by calling the Affordable Care Act as "socialized medicine," the impression is clear that there's an unbridgeable divide that separates that person from a supporter.  That the program encourages people to sign up mostly with private insurers ought to be enough to get the flame thrower to pull back from such toxic language.   If not, there is still a rhetorical path to agreement. Different and more general words–sometimes called "ultimate terms"–can encompass the same subject area, but carry more of a tone of reassurance than threat.  As the critic Kenneth Burke noted, these terms tend to focus on values, first principles, common beliefs and the like.  So if we choose to describe the Act as a way to "guarantee a birthright of basic healthcare for every American," it surely sounds better.  We recognize a "birthright" as a guarantee that comes with being a citizen of the country.  So while the lower end of the abstraction ladder includes terms or claims that still provoke disagreement–that insurance exchanges will actually work, that people will pay no more while still seeing their own doctors, and so on–the much broader "birthright" value is a point on which more Americans might find common ground.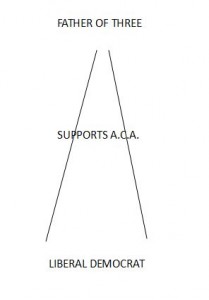 In rhetorical terms, this is the point of transcendence.  It's a universal principle or value where differences begin to yield to agreements.  So it is often the effective communicator who is capable of reframing an issue to find this point.  In public discussions and debates we often recognize the process of finding common values when an opponent probes the other side with a series of questions, for example: "Would you agree that no American should be sent into combat if a war does not involve our vital interests?"  "Can we both accept the idea that parents with children need adequate health coverage?"  "Can we start by accepting the principles enshrined in the First Amendment?"  Can we agree that all students in this city have a right to a good and comprehensive education?
So the ability to break through conflict is sometimes started—if rarely finished—by seeking the point of rhetorical transcendence where shared values are acknowledged by both sides.  That acknowledgment will not melt away conflicts.  But it's often overlooked as a useful place to start.