A recent forum of radio executives made it apparent that public radio is thriving. Audience sizes are up, contributions from sustaining members are up, and many stations have benefited from powerful new digital tools.
We are used to hearing laments about the decline of the big city newspaper, the traditional broadcasting networks, and other broad-based "legacy" outlets.  Most assume that social media have swallowed up the attention of younger Americans.  While there is some truth to that observation, a recent forum of radio executives at The College of New Jersey made it apparent that public radio is thriving.  The event was held in part to honor the 50th Anniversary of the College's station, WTSR.
For most larger stations in the United States (and there are many), audience sizes are up, contributions from sustaining members are up, and many have found digital tools that have made them community assets.  Dean Cappello, the Chief Content Officer of New York's WNYC—which is actually an amalgam of about seven stations—cited monthly listening rates that are huge for radio: well over 20,000 million.  Leading programs on National Public Radio, Public Radio International, and American Public Media—some of which are produced by WYNC—now reach Americans in every corner of the globe.  Radiolab, On the Media and Studio 360 all originate at WNYC, as do live opera broadcasts from its sister station, WQXR.  And then there are key shows from other stations around the nation.  Who knew that Wait Wait, Don't Tell Me or This American Life or A Prairie Home Companion would become American touchstones, rivaling old and venerable models of audio programming like BBC radio's Desert Island Disks?
Another recent factor in station membership growth is the recent election.  The New York Times recently reported that  more Americans are contributing to news organizations, including public radio, presumably because they want the struggling press to ramp up their traditional "watchdog" functions, even in the face of relentless press attacks by Donald Trump.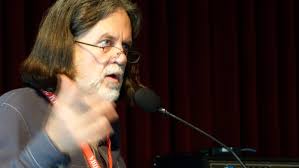 While New York is clearly a special case as the largest media market in the country, the story is no less bright in the 5th largest market of Philadelphia.  Roger LaMay who is the General Manager of WXPN and also Chairman of the NPR Board described how WXPN has grown their station with a special devotion to new music and live performance. WXPN's syndicated World Café Live is picked up by 100 other stations in the United States. Much of the show is produced in a way that is becoming more common for big city public radio outlets.  Live concerts are featured, using a station's own dedicated performance spaces, sometimes with restaurants and bars attached.
Another of the city's stations represented on the November 30th panel was WHYY, the home of NPR's Fresh Air with Terry Gross. The station is also known for originating substantial news coverage of the region, extending their reach with an ambitious internet site. Audio News Director Gene Sonn credits their success in part to how well matched radio is to news and information programming. As he noted to me before the formal panel started, a print story drains its human subjects of the emotion and feeling in their voices. We understand stories better when we can actually hear participants in their own voices. And, of course, audio technology is so much more portable than the equipment that is required to shoot a well lit-video that also has a clear audio track.  In short, radio is more immediate and nimble in covering many kinds of news stories.
All of the participants reminded the audience that "radio" doesn't necessarily mean a station with a broadcast license. WNYC's Dean Cappello notes that "The audience is in charge now," deciding when and how to listen to programs.  Listeners who are "streaming" programming from the internet will at some point probably surpass those receiving signals over the air. This explains why these stations are now truly global. With streaming, a listener can receive the programming of a station virtually anywhere, vastly increasing the potential audience size.  For example, I like a classical music "station" in Athens Greece. A friend is devoted to a jazz station in Paris. Newer audio equipment can be programmed with station URLs to receive signals from virtually anywhere on the globe.
Newer "On demand" listening  via podcasts helps public radio counter its tendency to appeal to older listeners.
Add in the use of the iPhone, notes WNYC's Cappello, and the world of radio changes dramatically. The phone's storage capabilities make it ideal to receive and hold podcasts downloaded from stations and sources such as iTunes. Periodic updates provide targeted programming to Americans on the run or on the road.  A friend reports loading up his phone with lots of podcasts that can be played later on the train or whenever he is in transit. This "on demand" listening helps public radio counter its tendency to appeal to older listeners with a NPR network average age of 58.  And there's an advantage for program producers going into the podcast business, with avid listeners mostly in their 20s or 30s. The panelists pointed out that they can sell advertising space in podcasts, a revenue stream not open to true "non-commercial" radio operating at the bottom ("educational") end of the FM band. The ads may not always be a plus for listeners, but they make these executives more comfortable about the future of their organizations: optimism that seems fully justified.