We think and produce our thoughts, necessarily coming to terms with the requirements of the story format.
An academic rhetorician gets to be absolutely certain about very few things.  But there is one core concept of human communication that is mostly unchallengeable. Simply stated, it is that our world is mostly understood and communicated to others through the structure of narrative.  As the essayist Joan Didion once noted, "We tell stories in order to live." We may have myriad theories of "ways of knowing," but few can match the simple story structure as a representation of how we process events.  The story format is nothing less than our primary way to process nearly all human events.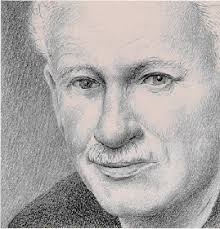 Building on the work of master critic Kenneth Burke, we can count on a story structure to generally have five parts that are either explicit or sometimes assumed but not said. His "pentad" formalized the structure. Narratives come with:
Agents

—those engaged in an action—often verbal
Acts

—what is actually attempted in a given situation
Agencies

—the specific terms and locutions sources of narratives choose to use
Scenes

—events or locations that give the action meaning
Purposes

—known or assumed intentions of agents for their actions.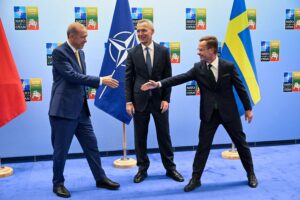 Name almost any human transaction and it is possible to spin out the stated or implied elements of the pentad. When the leader of North Atlantic Treaty Organization recently chose a public setting (scene) to announce Turkey's agreement to allow the admission of Sweden to be a member, all of the pentadic elements were in their place. Every member must agree on new members, with Turkey holding out for a year. So, when they finally agreed, it was important to put on a show of unity (purpose). The NATO leader stood next to both presidents, in front of the three relevant flags on an otherwise sparse stage. And the announcement (act) used diplomatic language (agency) to emphasize the sought after unity that had been the goal of intense private negotiations. Burke would have noted that the expected elements of the pentad were all confirmed in the moment. The scene was as it needed to be to satisfy various international audiences. The three leaders were the necessary agents fulfill the act.  It also meant that one of the principals could not be absent. The addition of an American flag would have been out of place. And the President of Turkey kept his about reservations about Sweden mostly to himself.
This is all obvious. But that's the point. This simple form is embedded in virtually any news reporting across all media. Narrative form requires how certain rhetorical acts will be played out. No element is missing or out of place. One could swap out any of these elements with different choices and the nominal unity of the moment would begin to unravel.
We read the components of narrative almost intuitively. And we reserve most of our criticisms for those acts that seem to be in tension with any other part of this pentad. We know how to behave at a wedding or funeral. We know how to be "diplomatic" around a person with a short fuse.  And we guess–endlessly–about the motives of others. In short, we study or produce rhetoric, coming to terms based on what Burke described as the normative "ratios" between the pentadic elements. This is usually life as we wish it to be. If an event is unsatisfying, we can look for a tension that may exist between any two of these five elements. In the unlikely event that we should we want comedy, then we can go ahead and misalign scene and act, agent and agency, or act and purpose. If a comedy of failed expectations does not follow, embarrassment surely will.